Footwear is made of genuine leather, and plastic-coated skins podszewkowanego natural leather, so that the user's foot is always in contact with the skin.
The use of leather or plastic coated podszewkowanego as part of the top, makes it possible to wash work boots with water and a mild detergent, without fear of its destruction
VALUES:

PERFORATION

Perforation of the upper also increases comfort, thanks to the increased air circulation.

INSERT

In the formulas are profiled inserts a fussbet significantly elevating comfort. In fact, the position size for a recess in the back of the heel stabilizing the correct setting, roller podpalcowy and support longitudinal arch of the foot.

SOLE

The use of lightweight soles to prevent foot fatigue.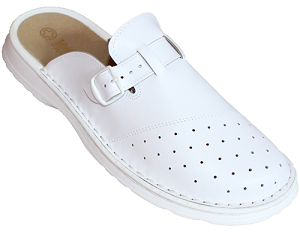 ADJUSTING

Soft materials surfaces and linings provide footwear to fit the shape of your foot. Utility values ​​raises the possibility of regulation you did.
COLOURS

In addition to offering the traditional white color, we offer models in other colors.

SHOES HAVE CERTIFICATES ISSUED BY:
- Institute of Leather Industry in Łódź
- Central Laboratory of the Footwear Industry in Krakow
- Footwear satisfies the conditions laid down for category I PPE.
Produced according to PN-EN ISO 20347:2005